News
2013-05-13
Sigma Software v1.24.03
Sigma Software v1.24.03 is out!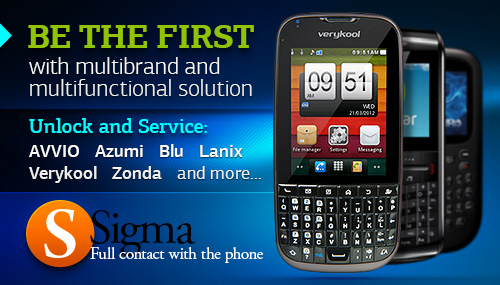 Release Notes:
MTK platform updates:
1. The following models were added to the list of supported for servicing operations:
AVVIO: 401, 515, 921
Amgoo: AM85, AM916
ACE: Caracas 2
Azumi: L2
BLUEBO: HI3
Bmobile: K325, Lq310, Q7, S225, S240
BESS: M900T, Vz210
Blu: T120
Coral: C460p, 645, 670, 691
Huawei: G3511, G3512, G6003, G6006, G6151, G6210
HKM: N6370
Kyoto: Q12
Lanix: Lx1, Lx5, Lx6, Lx 11, Lx 20, Z11, W20, W30
LG: GB160a
Pcd Utstarcom: Ttx38gt, CL1136, CL1261, CL381clw, CL129, CL381, C1535
Pantech: C180, P1010
TCL: 7110a
Verykool: I320, I605, I625, I675
Zonda: Zmax500, Zmax550, Zmax560, Zmck810, ZMK845, Zmck865, Zmck888, Zmck895, Zmur300, Zmtftv20
ZTE: R228, R236m, R260
Chinese copies of known brands of mobile phones:
Nokia Q7 Tv
I-Phone 4s
Samsung S3 9300
Samsung Beyond H92
Samsung S5570i
We would like to express our gratitude to the "Union of Cell Phones Experts - Clan GSM" forum for tests and logs provided.
2. Added unlock via patching for the following MTK phones:
ZTE-G S508 (TLM-MAD-9S-P110A16V1_0_0B02)
ZTE-G S516 (AIR-MG-9S-P110A14V1_0_0B03)
Zonda ZMTN815 (T510_02G_MP_F1_19)
Viettel V6203
Qualcomm platform updates:
Fast Direct Unlock firmware database updated with new versions:
Motorola:
MB200: GSXMORRMOVSTLA01D.0R
XT311 - 2 new versions
MB855 - 1 new version
XT560 - 1 new version
ZTE (also Repair IMEI supported):
F930: ZTE_CN_P608D1V2.0.0B04-D
Kis Lite: GB_VELCOM_P752D01V1.0.0B02
V889D: P772A10DV1.0.0B10
V889D: P772A10DV1.0.0B12
ZTE Racer: VE_DT_P726GV1.0.0B06