News
2013-05-23
Sigma Software v1.25.02
It's been three days since the last update and now we are ready to give you a new version of Sigma software! Even though we've already added support for over 350 models this year (it's more than 2 models per day), we're gonna keep on adding good stuff to improve Sigma as much as possible!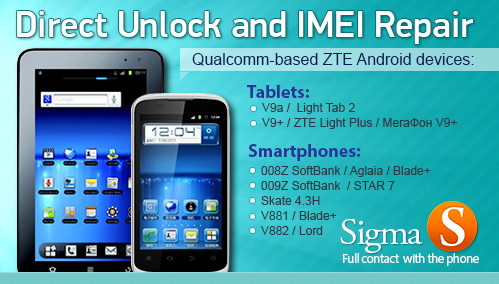 Qualcomm platform update:
1. Released Direct Unlock and Repair IMEI features for a new group of ZTE Android devices that are based on Qualcomm processors.
Tablets:
V9a / Light Tab 2 / Light / myPad P3 / BASE Tab 7.1 / Telenor Touch Pad
V9+ / ONDA TT102 / Light Tab 2 / ZTE Light Plus / MegaFon V9+
Smartphones:
008Z Simple Smartphone / 008Z SoftBank / Aglaia / Blade+
009Z SoftBank / STAR 7
Skate 4.3H
V881 / Blade+ / Aglaia
V882 / Lord
Sigma software resets Wrong Code Counter automatically during the Direct Unlock procedure.
Heuristic method of unlocking, available with Sigma only, allows to unlock these devices in case they have new or unknown firmware versions.
2. Following Huawei devices were added to the list of supported for Direct Unlock and Repair IMEI:
Smartphones:
U8667 / Speed
U8681 / Ascent G312
3. Fast Direct Unlock firmware database was updated with the following versions:
Motorola:
MB300: USAMOTSTELMXLA013.0R
MB860: 1 new version
XT316: 1 new version
ZTE:
Blade II: GB_P735TV1.0.0B09
Blade III: VELCOM_P772N10V1.0.0B04
MTK platform update:
Added unlock and service for:
Zonda ZMCK740 via patching
(PN-SC_1V8_CN_LLNUMLD_122_YYMMDD_CAM_MCPMCP_O) - in test mode
Zonda ZMCK870
NGM Vanity