News
2013-07-11
Sigma Software v1.27.00
We're not looking for easy ways. Quality is really important to us, that's why you can get a complete solution which is easy to use and simple to understand.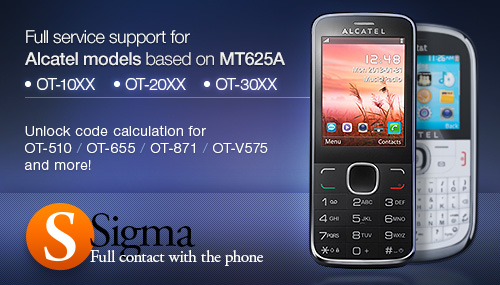 MTK platform update:
1. Released service support for the phones based on MT625A CPUs:
Supported servicing options:
Direct Unlock
Read Unlock Codes
Unlock Code Calculation via IMEI and PID / Security file (Alcatel models)
Write flash
Read-Write backup
Read User Code
Format FFS
Phonebook backup
Repair IMEI (only for models with IMEI located in the file system - sc Software IMEI)
Supported Alcatel models on MT625A:
OT-1010, OT-1011, OT-1012, OT-1030
OT-2000, OT-2001, OT-2005, OT-2010
OT-3000G, OT-3001, OT-3002, OT-3003
OT-3040, OT-3041, OT-3042
OT-J100, OT-I210
2. Added Unlock Code Calculation via IMEI and PID / Security file for the following Alcatel cellphones on MT6576 and MT6255 (all existing PIDs supported):
OT-V575 / Vodafone 575
OT-815, OT-815D
OT-382, OT-A382, OT-M665
OT-510
OT-655, OT-655W
OT-768
OT-870, OT-870F, OT-871, OT-875
OT-902
3. The following MTK devices are added to the list of supported:
Lanix Z20 (MT6253)
SFR StarTrail III (MT6575)
Verykool i604 (MT6252)
Zonda ZMCKFR110 (MT6235)
Detailed manuals on how to service MTK phones are located in the Help section of the official Sigma website as well as phone pinouts, drivers and video tutorials.
Qualcomm platform updates:
1. The following Qualcomm-based smartphones are added to the list of supported for Direct Unlock and Repair IMEI:
Huawei Ascend G520
ZTE Blade III Pro
ZTE Beeline E600
ZTE T790 / Telstra Pulse / Next G
2. Fast Direct Unlock and Repair IMEI database updated with 15 new firmware versions for various ZTE and Motorola models.
There is a potential possibility to add more Qualcomm-based devices to Sigma. Read more.
Sigma - we always give you more!