News
2018-12-28
Sigma Highlights of 2018
2018 was a productive year for Sigma team.
Lots of new phones appeared on the market, so we were super focused on developing essential service solutions for them, like unlocking, IMEI repair, flashing, and FRP operations.
You asked us to provide support for new devices and we accepted this challenge. It took time to do all the researching, because developing something new is way harder than copying the existing solutions. Sometimes it took us several weeks to include one single device to the list of supported. Sometimes we managed to add 10 new phones in one day! This was a real brainstorm, especially when a new model was just released and Sigma already provided support for it!
All the hard and at the same time creative work resulted in our brand new solution – Sigma Huawei Edition, followed by adding a new supported platform – Spreadtrum.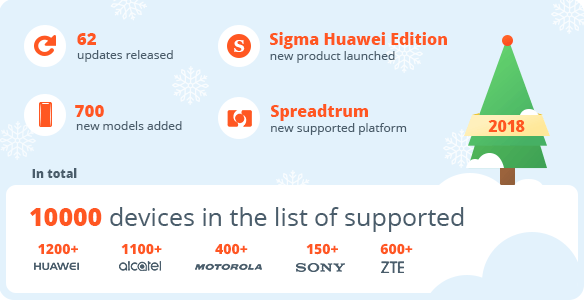 Thanks to our active cooperation with customers, we managed to provide servicing for a huge range of latest devices from all over the world.
Since 2012 Sigma remains one of the best and the most reliable tools for mobile phones servicing. Even basic Sigma version includes support for relevant models.
Thank you for being with us in 2018.
In 2019 we are ready to work for you and with you!
Best regards,
Sigma Team