News
2020-07-23
Sigma Software v.2.38.02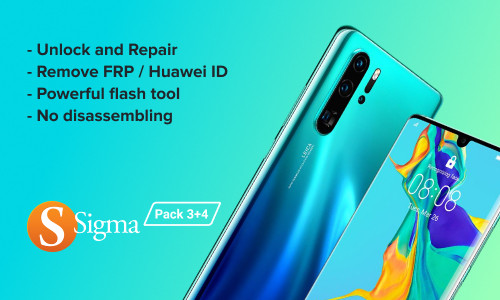 Exclusive Huawei Solutions!
First in the WORLD!
Released exclusive Repair feature for devices based on HiSilicon Kirin 65x / Kirin 95x / Kirin 960 / Kirin 970 / Kirin 710 / Kirin 980:

Change vendor
Change country
Change Model




Benefits:

EMUI version does not matter
Allows to convert DEMO units to full working phones
Correct Repair data in OEM info zone
Totally safe operation, because Sigma makes auto-backup of original OEM info area




How to connect:

No need to disassemble the phone with Sigma software testpoint
Also you may use hardware testpoint




Note for devices on Kirin 980: We do not recommend restoring OEM-info area from other phones. In order to write data in OEM info zone correctly, please Repair Vendor/Country/Model and reflash the phone.

Improved Enable downgrade feature for models on HiSilicon Kirin 710 / Kirin 980:

This feature allows to downgrade firmware/ Android version of the phone



Significantly improved Software Testpoint feature for models on HiSilicon Kirin 95x.
More features will be added, step-by-step.
FULL List of features exclusively supported by Sigma for devices on Kirin 710/970/980:
Service:
SOFTWARE TESTPOINT (service without disassembling)
Direct network unlock
Remove Huawei ID
REMOVE FRP
Get full device info
Repair:
Repair and Change Vendor / Country / Model
Read / Write OEM INFO
Rescue mode entering
Load Fastboot / Backdoor open
Write original Huawei board (factory) flash files in *.xml or Sigma format
Write Flash:
Write original FullOtaUpdate / SD_Update files
Enable Downgrade / Change firmware
Flash in Upgrade or Fastboot mode
You can find the list of supported Huawei devices here.
Both Pack 3 and Pack 4 have to be activated to use these exclusive features.