News
2012-11-12
Sigma Software v1.17.02
Sigma Software v1.17.02 and Sigma Firmware v1.19 are out!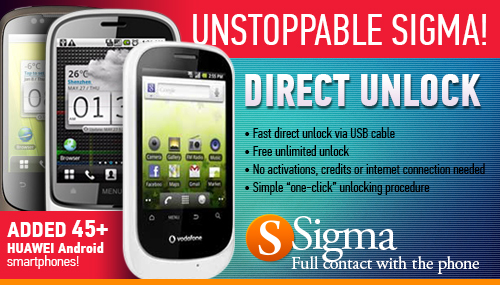 Please welcome the simplest Huawei unlocking feature you've ever seen, available with Sigma v1.17.02 exclusively! It's fast, reliable, and not based on any other solutions! 45+ models added!
Sigma v1.17.02 Release Notes:
1. Added Direct Unlock (and Repair), Read Unlock Codes features for the following Huawei Android smartphones (Qualcomm platform):
U8100 / Orange Tactile Internet
U8105
U8107
U8109 / T-Mobile Pulse mini
U8110 / T-Mobile Pulse Mini / Pulse Mini / Selina / Ivy
U8120 / Vodafone 845 / V845 / Joy
U8150 / Ideos / T-Mobile Comet
U8160 / Vodafone 858 Smart / Orange Stockholm
U8180 / Orange Stockholm / T-Mobile Rapport / Ideos X1 / Gaga / SFR STARSHINE
U8180v
U8185 / Ascend Y100
U8186 / Ascend Y101
U8220 / T-Mobile Pulse
U8230 / TMN A1
U8300 / Ideos Chat
U8350 / Boulder / Orange Barcelona
U8500 / MTS EVO
U8510 / Ideos X3 / Blaze
U8650 / Sonic / Turkcell T20
U8651 / Astro / T-mobile Prism
U8652 / Fusion
U8655 / Ascend Y200 / SFR StarTrail II
U8660 / Sonic
U8661 / Sonic Plus
U8666 / Ascend Y201
UM840
M835 / HWM835
C8150 / Ideos
C8500
C8500S
C8511
C8550
C8600
C8650
C8650 Plus
C8800
C8810 / Ascend G300C
M860 Ascend
M865 / Ascend II
* some of these models have World's First Unlock feature status
The benefits of our solution are:
Fast direct unlock via USB cable
No additional activations or credits required
No internet connection needed for unlock
No need to search your model in the long lists
No need to root your smartphone before unlocking
Simplified to maximum unlocking procedure: no need to press any additional buttons on the device during the unlock procedure. Just connect - unlock - disconnect
Well-explained unlocking manual is located at the "Help" section of Sigma website.
2. Significantly improved heuristic method for Qualcomm ZTE smartphones, which lets you service a wider range of models.
3. Added new firmware versions for Fast Direct Unlock of the following devices:
Motorola:
EX132 - 1 new version
XT320 - 1 new version
XT615 - 2 new versions
MB200 - 2 new versions
MB300 - 1 new version
MB855 - 4 new versions
MB860 - 3 new versions
ZTE:
V880 - 1 new version
V960 - 1 new version
V889d - 1 new version