News
2013-05-31
Sigma Software v1.25.05
Today we're ready to give you long awaited world's first solution for a new series of hot and spicy ZTE smartphones!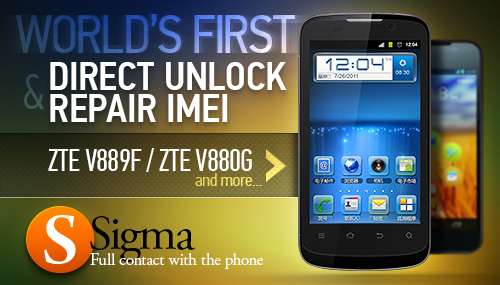 Qualcomm platform update:
1. Released world's first Direct Unlock and Repair IMEI support for the following devices:
ZTE V880G
ZTE V889F
ZTE V955
TWM Amazing A2
How to start: connect these models in download mode and you're all set. Detailed manual located in the Help section of the official website.
2. Alcatel OT-8000 added to the list of supported for Direct Unlock / Read Unlock Codes
MTK platform update:
Added support for new SPI flash chip ID:00F83216-00000000
Want to keep your finger on the pulse of our latest developments? Subscribe on our YouTube channel today!
It's the right time to choose the right tool! Sigma - full contact with the phone.