News
2013-11-18
Sigma Software v1.31.00
Sigma Software v1.31.00 and Sigma Firmware v1.33 are out!
The most important things are the hardest to achieve, but as you might've noticed, there's nothing impossible for inspired people, and be assured that we have a lot of enthusiasm to keep you amazed and surprised!
Today we're proud to present you the most expected update of this year with world's first support for over 20 long-awaited OMAP-based Motorola devices!
Be the first to benefit from the solution!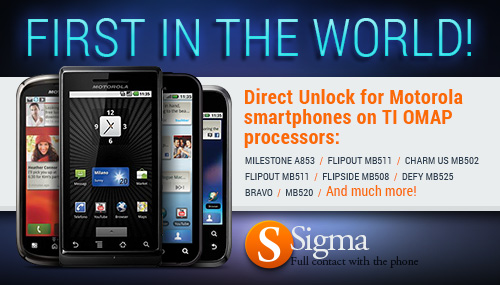 TI Platform Update::
Added free direct unlock for the following line of Motorola smartphones:
A853 Milestone
A853 Milestone LatAm
A953 MILESTONE 2
MB502 Charm LatAm
MB502 Charm US
MB508 Flipside
MB511 Flipout
MB511 Flipout at&t
MB520 Bravo
MB525 Defy
MB526 Defy Plus
MB611 Cliq 2
ME511 Ruth
ME525 Defy
ME525 Defy Plus
ME722 MILESTONE 2
XT701 Sholes Tablet
XT702 Milestone
XT711 Sholes Tablet
XT720 Milestone
XT720 MOTOROI
Mind that you need to root the smartphone before unlocking.
Main advantages of the solution:
Super-1-click simple unlocking solution via usb cable (root required).
Works with all firmware and baseband versions.
Ideal solution for phones that can't be unlocked via unlock codes due to their absence in the carrier's database.
Supports phones with blocked counter of code entries attempts / disabled unlock code entry field.
Saves all user's data after unlocking.
Everything you'll need to unlock a device (manuals, drivers, etc.), you will find in the corresponding sections of Sigma website.