News
2013-12-18
Sigma Software v1.32.00
Sigma Software v1.32.00 and Sigma Firmware v1.34 are out!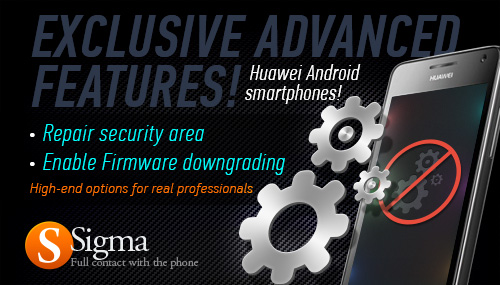 Dear professionals!
We're really excited to give you another yet no the last outstanding Sigma update! With this release you get a chance to really dig into that Huawei smartphone servicing with repair security area and enable firmware downgrading features!
Qualcomm Platform Update:
1. High-end options added for Huawei Android smartphones:
Repair security area:
Lets you fix corrupted security area of the phone.
Enable firmware downgrading:
This option is disabled by the manufacturer by default. Sigma, on contrary, unlocks it and lets you flash any firmware you want on the phone - from lowest to highest versions. For some devices it is possible to perform cross-model flashing.
Supported models:
U8951 Ascend G510 / Orange Daytona
U8860 / Honor
U8833 / Ascend Y300
U8825D / Ascend G330D
U8825
U8815 / Ascend G300
U8800
U8730 / Buddy / Unite Q / T-Mobile myTouch Q
U8680 / T-Mobile Ascend G312 / Phoenix / T-Mobile myTouch
U8666 / Ascend Y201
U8666-51
U8655 / Ascend Y200 / SFR StarTrail II
U8652 / Fusion
U8651 / Astro / T-mobile Prism
U8650 / Sonic / Turkcell T20
U8180 / Orange Stockholm / T-Mobile Rapport / Ideos X1 / Gaga / SFR STARSHINE
U8160 / Vodafone 858 Smart / Orange Stockholm
U8150 / Ideos / T-Mobile Comet
U8110 / T-Mobile Pulse Mini / Pulse Mini / Selina / Ivy
Step by step manual on how to use these new features can be found in the help section of Sigma website.
2. Fast Direct Unlock / Repair IMEI database updated with:
Motorola XT320 - 2 new firmware versions
ZTE B970: BOOST_AU_P752A20V1.0.0B02
ZTE Skate: GB_O2_P743TV1.0.0B02
ZTE Open:

B2G_P752D04V1.1.0B04_TME
US_DEV_FFOS_V1.1.0B04_UNFUS
EU_DEV_FFOS_V1.1.0B04_UNFUS
MTK Platform Update:
Blu Diva X, T362T (MT625A)
Zonda Zm30 (MT6252)
BLU Tattoo S Q192 (MT6250)
Flash File Area Update:
38 Gb of flash files for Huawei smartphones and repair files uploaded to flash file area at boot-loader.com