News
2019-12-24
Sigma Highlights of 2019
Dear friends!
New year is just around the corner, so it`s high time to sum up the results. Now we want to show you what we have reached so far. Check out our little report and don`t forget to tell us how we are doing!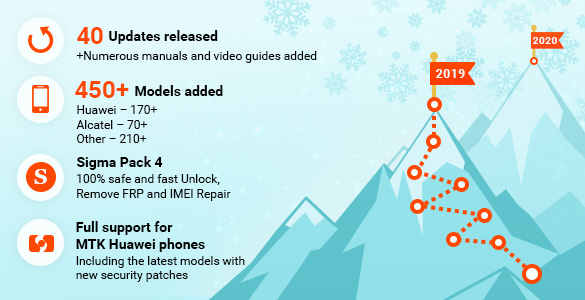 Key Priorities in 2019
Android MTK devices protected with new security patch levels
Support for new CPUs
QCOMM AUTODETECT feature
SPFT method for MTK smartphones
Operations via Testpoints
Phones locked with new "Device Unlock" application
Main Achievements:
Sigma software has significantly improved in terms of phone interaction quality. We've set high performance standards and implemented many outstanding ideas.
Currently, Sigma supports over 10 500 phones, including Huawei - 1350+, Alcatel - 1150+, Motorola - 450+, ZTE - 600+, Sony - 150+ and many more (Oppo, Blu, Vivo, Xiaomi, Asus, Lenovo, ZTE, Wiko, Nokia, Hisense,etc.)
Enormous amounts of time and work have been devoted to ensuring the full support for Repair IMEI, Unlock, and Remove FPR operations for smartphones on various platforms. As a result, we have entirely changed the unlocking procedures to bring you the ultimate quality of service.
We have dedicated considerable efforts to the improvement of the Remove FRP feature for the most popular Qualcomm smartphones. Now it is smarter and faster: Sigma software automatically detects the phone model… and a few seconds later, the "Done" message appears on your screen. That`s how it works!
Find out more in the Help section of our website.
Huawei's latest security on MTK models is not an issue anymore! Mighty legions of Sigma have brought this fortification down. Easily perform Repair IMEI, FRP Remove, Unlock, Get Unlock Codes via Testpoint for numerous Huawei smartphones with the latest security and don`t forget to follow the forthcoming updates!
Finally, it's happened! A new pack has been added to the Sigma family. We made Sigma Pack 4 exclusively for Repair IMEI on the latest Huawei phones. This is the result of the continuous endeavours of our developers and, of course, the patience of our customers. Pack 4 was well worth the wait! It is a completely safe and 100% effective solution that won`t waste your time.

✔ All security versions supported
✔ One click and the job is done
✔ No data loss
✔ No downgrading or reflashing
✔ IMEI stays repaired even after MASTER Reset

Fast, simple, and safe!
Sigma Team spent the year 2019 struggling with the latest Huawei security, and, for sure, we will win this battle! The list of supported Huawei phones is growing, and that is a good sign.
Alcatel was another brand of the year – a lot of support added for the latest and most popular models.
Thanks to the utmost efforts of our developers, Sigma software is compatible with the latest phone brands on the market as well as unknown models.
We deeply invested into improvement of service procedures to provide our clients with unique, a whole new level of performance. Every time we introduced a new solution, we did our best to make it Sigma style – one click and 100% efficient.
From year to year and from day to day, our small but devoted team tirelessly works to support you with the best possible solutions. Some of us have been in the game for over 20 years (can you imagine that?). We believe that we stay strong because of our loyal clients! So, for one more time, we would like to thank all of you for your endless patience and incredible support!
Let the new 2020 bring us more unlocked phones and efficient solutions!